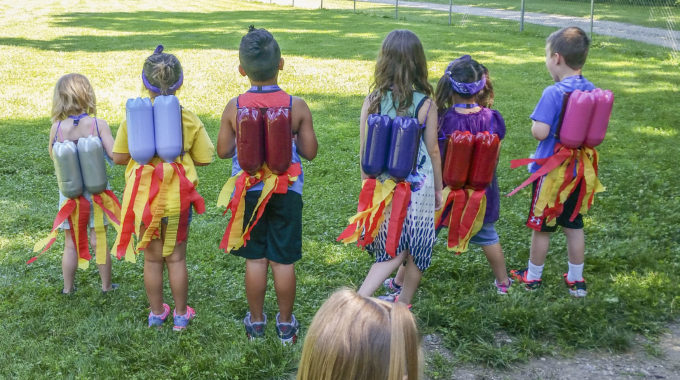 Camp Courageous Marks 23 Years of Helping Kids Through Grief
Camp Courageous, a week-long day camp offered by Pathways of Hope at the Generations of Life Bereavement services, offers children support and skills to deal with grief after losing someone they love. This year, nine staff members and 18 volunteers led kids through a variety of camp activities that included music, art and pet therapy, along with water balloon fights and sack races. A giant inflatable slide and dunk tank were included along with education on grief rights and the creation of "worry dolls." Tipp City coach and teacher Byron Kimmel shared a slide presentation and insights with the campers about his own life after he lost his father at age four. The camp concluded with a remembrance service including family members.
For twenty-three years, Camp Courageous has been helping children who have lost a loved one find friends and support for grief. Camp Courageous is made possible through the generous support of the community and is offered free of charge to youngsters entering kindergarten through twelfth grade.  Camp Courageous is open to any Miami County area child/teen who has experienced the death of loved one, regardless of whether Ohio's Hospice of Miami County services have been used. Camp Courageous is held at the Ludlow Falls Camp in Ludlow Falls, Ohio.
Individual and group support is available for grieving children, teens and adults year-round through the Pathways of Hope at Generations of Life Community Bereavement Resource Center and Ohio's Hospice of Miami County. For additional information, please contact, 937.573.2103.